OceanWave3D
For simulation of free surface flow over variable depth in coastal engineering a first Boussinesq model was derived by Peregrine (1976). This model was restricted to accurate simulation in shallow water. The equations was later extended for the adaption to deeper waters. This led to the development of several modified forms of Boussinesq-type equations, e.g. Madsen et al. (1992) and Nwogu (1993) and later Madsen et al. (2003). The OceanWave3D model addresses the limitations in practical application ranges of Boussinesq-type models and is based on the original work by Li and Fleming (1997) and has been extended and improved by Bingham Et al. (2007), Engsig-Karup et al. (2008), Engsig-Karup et al. (2011).
Our work focuses on developing robust and fast state-of-the-art numerical tools for nonlinear free-surface water waves useful for application in coastal and offshore engineering. The OceanWave3D model currently exists in an optimized CPU version based on Fortran 90 code and in a massively parallel GPU version developed in C , cf. Engsig-Karup et al. (2011). The two figures below highlight the scalability and performance properties of the OceanWave3D model. The GPU version of the model can currently solve problems with close to 100.000.000 degrees of freedom in the volumetric mesh for the laplace problem in single precision and using 4GB RAM and process one iteration of the efficient iterative solver in less than 1 second on a Fermi GPU. The massively parallel and naive Fermi implementation has been found to be at least x42 faster (only measured at close to 3 million degrees of freedom) than the single-core CPU version in double precision in a naive implementation done using CUDA. These results have been achieved by complete redesign of the iterative solver, efficient memory access patterns and using a GPU with high onchip bandwidth.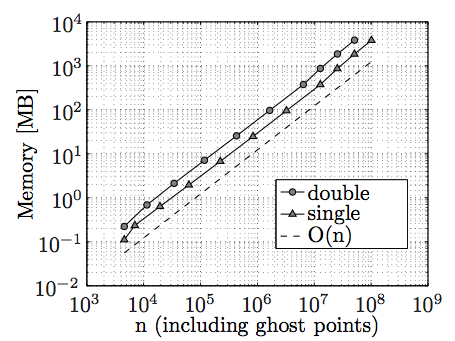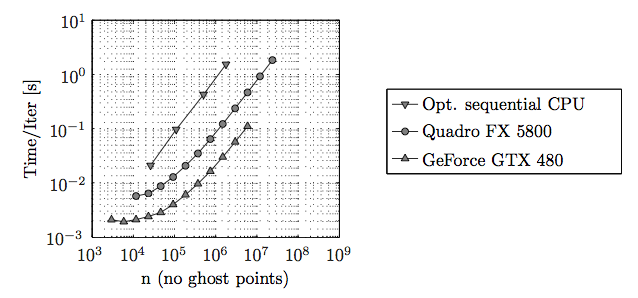 Scaling and Performance results achieved in collaboration with Morten Gorm Madsen.
Background
Coastal and Ocean Engineers require a means of estimating the design loads to be expected by the structures their clients wish to place in the ocean environment. Examples of such structures include: Ships, offshore oil and gas platforms, floating production and storage facilities, and offshore windmills for electric power generation. Of particular interest in the context of this project are offshore windmills where predictions are required for both the lifetime fatigue loading and the maximum expected lifetime load on the structure. Standard practice for predicting the fatigue loading is stretched linear wave theory combined with a Morison-type approximation for the forces. The "design wave" typically used to predict the maximum lifetime loading is an exact steady nonlinear solution (e.g. stream-function theory) based on statistical predictions of the highest expected wave at the site. The kinematics (vertical distribution of fluid velocity and acceleration) of this wave again provide an estimated loading via Morison's equation (or something similar).
There are a number of physical effects which are ignored by this state of the art. The use of linear theory of course ignores all nonlinear wave-wave and wave-structure interaction effects. The Morison-type force approximation assumes that the waves are long relative to the structure's horizontal dimension and ignores all diffraction effects (detailed interaction between the waves and the structure). Refraction and wave transformation via interaction with the sea bottom is also essentially ignored. Recently however, several computationally efficient methods for computing nonlinear wave flows have been promoted as alternatives to the state of the art which can include some or all of the missing physics. In particular, our group has developed a high-order Boussinesq-type methodwhich has been demonstrated to provide efficient, highly accurate solutions for nonlinear wave-wave, wave-bottom, and wave-structure interaction problems. Calculations using this model are now in use by the Danish windmill industry to provide an improved model of nearshore wave kinematics for design purposes.
The one physical effect which is not accurately accounted for by this Boussinesq-type model is the detailed interaction between the waves and the structure when the structure is not bottom mounted and uniform in the vertical direction. To address this deficiency, work has begun on a more flexible solution to the exact wave problem in three-dimensions (3D) which is suitable for treating complicated geometries and can easily be combined with the Boussinesq model away from the structure. The idea is to directly solve the exact (potential flow) nonlinear wave problem in 3D. This approach is of course not new but it is relatively rare in the literature compared to indirect methods where the 3D problem is collapsed in some way to a two-dimensional (2D) surface (e.g. boundary integral equation methods or Boussinesq-type methods). Indirect methods have the advantage that the interior fluid domain need not be discretised, but this comes with an increase in the complexity of the numerical solution which typically makes an efficient solution more difficult. So along with providing additional flexibility, we expect the direct solution to be competitive with the high-order Boussinesq method, despite the increased number of unknowns, thanks to the relative simplicity of obtaining optimal scaling of the solution effort (i.e. a scaling directly with N the total number of grid points applied over a horizontal plane.)
Direct solutions using finite-volume, finite-element and finite-difference methods have been reported in the literature, but until now this work has been limited to (at best) second-order accurate schemes. We have recently implemented a finite-difference based model using block structured domains, each with a variably spaced grid, thus allowing grid refinement where necessary. Sigma transformations are used to obtain block-rectangular computational domains on which the differential operators are approximated by arbitrary-order finite difference schemes. This strategy is felt to provide a good balance between flexibility and accuracy. Initial 2D testing has shown a reduction in computational cost (to achieve a given accuracy) of more than two orders of magnitude by moving from second-order schemes on an evenly spaced grid (the state of the art) to fourth-order schemes on a vertically stretched grid. An effective preconditioner for iterative solution of the resultant linear system of equations has also been developed and shown to perform optimally.
Selected project publications and presentations
H. B. Bingham and H. Zhang. On the accuracy of finite-difference solutions for nonlinear water waves. J. Engng. Math., 58:211-228, 2007.
A. P. Engsig-Karup, H. B. Bingham and O. Lindberg. An efficient flexible-order model for 3D nonlinear water waves. December, 2008. Journal of computational physics, 228, pp. 2100--2118.
A. P. Engsig-Karup, H. B. Bingham and O. Lindberg. A high-order finite difference method for nonlinear wave-structure interaction. In 22nd Intl. Wrkshp. Water Waves and Floating Bodies, Croatia, 2007.
H. B. Bingham, A. P. Engsig-Karup, and O. Lindberg. Multigrid preconditioning for efficient solution of the 3D Laplace problem for wave-body interaction. In 23rd Intl. Wrkshp. Water Waves and Floating Bodies, Jeju Island, South Korea, 2008.
Bingham, H. B. and Engsig-Karup, A. P. Boundary-fitted solutions for 3D nonlinear water wave-structure interaction. In 24th Intl. Wrkshp. Water Waves and Floating Bodies, April, Russia, 2009.
Engsig-Karup, A. P., Ducrozet, G., Bingham, H. B. and Dammann, B. 2009 Toward a scalable flexible-order model for 3D nonlinear water waves, International Conference On Spectral and High Order Methods, Norwegian University of Science and Technology, Trondheim, Norway, 2009.